Shopping Cart
Your Cart is Empty
There was an error with PayPal
Click here to try again
Thank you for your business!
You should be receiving an order confirmation from Paypal shortly.
Exit Shopping Cart
Please join Merrily in acknowledging the Yuin People, the Traditional Owners of the land on which Connecting Souls gathers and heals, and acknowledging all Traditional Owners of country throughout Australia. We recognise Aboriginal and Torres Strait Islander peoples' continuing connection to land, place, waters and community. We pay our respects to their cultures, country and elders past present and emerging.
| | |
| --- | --- |
| Posted on November 20, 2012 at 2:48 AM | |
I have been living boldly lately. Taking on new challenges, jumping off figurative cliffs with joyful abandon. So when a friend called with a desperate plea to find her daughter's most precious childhood friend, a doll named Lightening, I was honored to help in anyway I could. I didn't worry that Lightening had possibly been taken by the dog and dragged to any of a million possible nooks and crannies over the sprawling acres of surrounding bush. I didn't worry that she just as easily could have been swept up in the laundry, slipped under a couch or been buried under a pile of toys. I didn't even worry that I had never been asked to find an inanimate object before. My heart was just aching for her daughter and I was hoping I could help.
As soon as I arrived I had a distinct repeating image of something big black and round and Lightening was behind it. I was also overwhelmingly drawn to one place on the property, a camper where my friend's property mate was napping with her baby. While they slept we had a peek around the obvious places but it was the camper that I had to go visit. They assured me it couldn't be in there but all my intuition was pointing with flashing neon signs "The Camper". When we checked inside... Nothing. This is where I unwittingly started to doubt my intuition and began to lean on logic.
With psychic and mediumship work I use intuition with a sprinkle of logic, it's okay to text logic, even called it for a quick chat but whatever you do, don't go visit. I didn't realize it then but I not only visited logic, I'd sat down to have a cup of tea. My logic decided Lightening must be behind a big black round pillow. I held so tightly to this idea that when my intuition lead me through undergrowth and bramble out into the bush directly to a big black tire (with no Lightening to be found). I took this as the universe having a bit of a joke with me. It was big and black and round. Ha ha very funny I thought.
At this point I was frustrated and to be honest, embarrassed. My spirit had given up but my ego kept searching for another 40 minutes to no avail. The family had been generous and understanding. I apologized deeply, gutted I had not been able to locate this beloved doll. Driving home I questioned my skills and wondered what the hell I was thinking taking on such a huge task. I had raised this family's hopes and let a little girl down.
My sense of failure clung to me in the days to follow. But when my caller id identified my friend ringing my heart jumped. The best case scenario I could imagine was that the doll was found, but still, I had wasted their time. The story she told me humbled me and sent goosebumps from my head to my toes. The doll HAD been found. I was given all the right clues. I had just been too locked into one idea to see it. Lightening was discovered underneath that very camper and she was behind a tire... A big black tire. I was blown away. In hindsight it was all so obvious. Lighten was reunited with her little girl and the world was right once again.
The signs are there in our lives, miraculous signs, helping us, showing us the way. But it requires us to step outside our box, outside our fear and trust our intuition in the face of failure, embarrassment, looking ridiculous... The universe is doing everything it can to help us. The gifts are worth the risk. If we can just get out of our own way. 
Lightening swaddled by mom and waiting for her little girl to come and discover she'd been found.
Lighting and her little girl reunited. Now inseparable.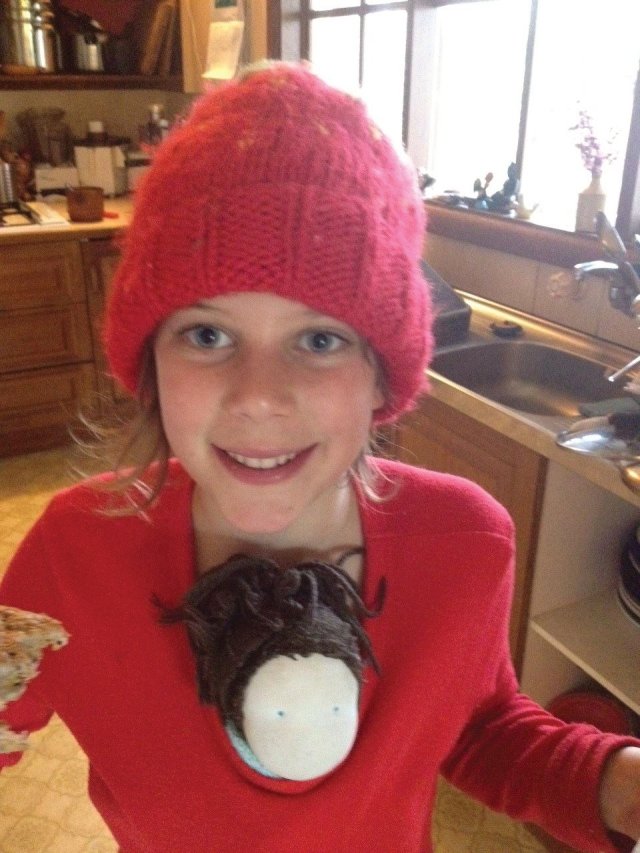 Categories: Mediumship and Psychic - How it Works, Tips and Techniques to Connect to the Ethereal

0

/