Shopping Cart
Your Cart is Empty
There was an error with PayPal
Click here to try again
Thank you for your business!
You should be receiving an order confirmation from Paypal shortly.
Exit Shopping Cart
Please join Merrily in acknowledging the Yuin People, the Traditional Owners of the land on which Connecting Souls gathers and heals, and acknowledging all Traditional Owners of country throughout Australia. We recognise Aboriginal and Torres Strait Islander peoples' continuing connection to land, place, waters and community. We pay our respects to their cultures, country and elders past present and emerging.
Gifting - You have spontaneous urges to offer money, time, healing... not necessarily understanding why.
Shifting - You detach out of chronological anchored activities to a progressively heightened state of flow.
Communication - You are more connected to the feeling of words than grammatical accuracy. Past, present and future tense may blur.
Surrender and Trust - In the state of flow you are pulled to gift a personal object of perceive value or attachment without any certainty of its contribution to the gifted.
Anonymous Acts of Grace- In the state of flow being pulled to people to deliver acts of service. This can happen anywhere at any time but you are directed in the now.
Complexity of Flow - As you begin to trust and navigate the field your navigational system will become more complex pulling you through the field to items or connection you've requested.
Purging Dis-ease - Latent health issues are anchored in 3-D. They will begin to erupt to be address and purged from the body.
Purging Suffering - Pain happens in the now and is unavoidable. Suffering is the residual of unprocessed pain and anchors the body into time. Unresolved pain will begin to amplify to be addressed and cleared.
Gut Driven Diet - In flow you abandon rote food scripting and begin to align with the subtle nutritional needs of your body. On a macro level this may mean long spans of vegetarianism and short carnivorous stints and on micro level may mean being pulled to a particular shop and a particular aisle and a particular shelf to a specific health product or supplement.
Object and Experience Layering - As your shift out of 3-D your desire for depth and meaning in every essence of life increases. High sensitivity to frequencies draws you to objects and experiences that are enriched vibrational i.e. Organic food, Artisan made items, Crystal jewellery, food made with passion and/or love, healing music.
You will be drawn to products and people that are themselves creating in the flow so that your sensory experience deepens, aligns and attunes with your ongoing transformation.
Perceived Magic and Miracles - In flow you will be guided through the field to gather gifts, experiences and knowledge that will defy current scientific constructs.
Hello beautiful souls!
I have come out the other side of cancer treatment having cleared out and transformed all kinds of old patterns and crude. A true spiritual journey. I still have a few medical things to sort but I wanted to stop in and thank you all for continuing to visit and share this site. I hope to be shaking up my life this coming year with many new adventures. Looking for fellow tribe mates to collaborate with and ways to give you more direct access to me. Also searching for a base camp in the US to begin to expand workshops to North Americca and Europe.
I hope this message finds you well. I'd love to hear from you.
Much love,
Merrily
ConnectingSouls.com.au
twitter.com/rememberbreathe
facebook.com/ConnectingSouls
Merrily is currently undergoing chemotherapy followed by radiation to treat breast cancer. She will be taking a break from most work through to October of this year. She will do some updates on her Facebook page. She sends heaps of love to you all. 
We confuse weakness and vulnerability all the time.

Weakness happens when you give your power away.


Vulnerability is when you stand in your power 
and allow yourself to be seen for who you truly are...


It can be scary
but being vulnerable is an extremely
powerful and empowering place.
When we desperately attempt to achieve something,
it's like trying to push happiness through the head of a needle.

When we try and control everything,
as we do when we're afraid,
it leaves us with the world resisting.

When we finally surrender and trust
(this usually happens for me frustrated and crying in the shower)
the world opens up, embraces our desires and miracles happen.

Breathe out the anger, the resentment, the pain, the paralysis...

Breathe out all the crap that has accumulated over your years. The crap that is so deep that you are more a human-reacting, a human-recoiling than a human-being.

Breathe out in forgiveness to release and uncover yourself. Forgive your mother, forgive your father, forgive your siblings, your partner, your children, your boss, yourself.

It doesn't matter who was right or wrong. If it hurt, if you resented it, if it stifled you... forgive it, forgive them and forgive yourself.


Forgive the past and forgive the future that will never be or the future you think you have but don't want. Forgive your guilt for being happy when others can't be.

Breathe out and forgive till it hurts. Keep breathing out and forgiving until there is no pain, no grief left.

Then you will see them,
your mother,
your father,
your siblings,
your partner,
your children,
your boss
....Just them.
And you will see yourself.
The cycles disengage. The patterns are broken. Your ears will hear just the words from their lips without the stories you projected onto them. Your voice will speak it's truth without being choked by history and wounds. Life will change and you will be a ripple in a pond that changes the inheritance of the world.
I have been living boldly lately. Taking on new challenges, jumping off figurative cliffs with joyful abandon. So when a friend called with a desperate plea to find her daughter's most precious childhood friend, a doll named Lightening, I was honored to help in anyway I could. I didn't worry that Lightening had possibly been taken by the dog and dragged to any of a million possible nooks and crannies over the sprawling acres of surrounding bush. I didn't worry that she just as easily could have been swept up in the laundry, slipped under a couch or been buried under a pile of toys. I didn't even worry that I had never been asked to find an inanimate object before. My heart was just aching for her daughter and I was hoping I could help.
As soon as I arrived I had a distinct repeating image of something big black and round and Lightening was behind it. I was also overwhelmingly drawn to one place on the property, a camper where my friend's property mate was napping with her baby. While they slept we had a peek around the obvious places but it was the camper that I had to go visit. They assured me it couldn't be in there but all my intuition was pointing with flashing neon signs "The Camper". When we checked inside... Nothing. This is where I unwittingly started to doubt my intuition and began to lean on logic.
With psychic and mediumship work I use intuition with a sprinkle of logic, it's okay to text logic, even called it for a quick chat but whatever you do, don't go visit. I didn't realize it then but I not only visited logic, I'd sat down to have a cup of tea. My logic decided Lightening must be behind a big black round pillow. I held so tightly to this idea that when my intuition lead me through undergrowth and bramble out into the bush directly to a big black tire (with no Lightening to be found). I took this as the universe having a bit of a joke with me. It was big and black and round. Ha ha very funny I thought.
At this point I was frustrated and to be honest, embarrassed. My spirit had given up but my ego kept searching for another 40 minutes to no avail. The family had been generous and understanding. I apologized deeply, gutted I had not been able to locate this beloved doll. Driving home I questioned my skills and wondered what the hell I was thinking taking on such a huge task. I had raised this family's hopes and let a little girl down.
My sense of failure clung to me in the days to follow. But when my caller id identified my friend ringing my heart jumped. The best case scenario I could imagine was that the doll was found, but still, I had wasted their time. The story she told me humbled me and sent goosebumps from my head to my toes. The doll HAD been found. I was given all the right clues. I had just been too locked into one idea to see it. Lightening was discovered underneath that very camper and she was behind a tire... A big black tire. I was blown away. In hindsight it was all so obvious. Lighten was reunited with her little girl and the world was right once again.
The signs are there in our lives, miraculous signs, helping us, showing us the way. But it requires us to step outside our box, outside our fear and trust our intuition in the face of failure, embarrassment, looking ridiculous... The universe is doing everything it can to help us. The gifts are worth the risk. If we can just get out of our own way. 
Lightening swaddled by mom and waiting for her little girl to come and discover she'd been found.
Lighting and her little girl reunited. Now inseparable.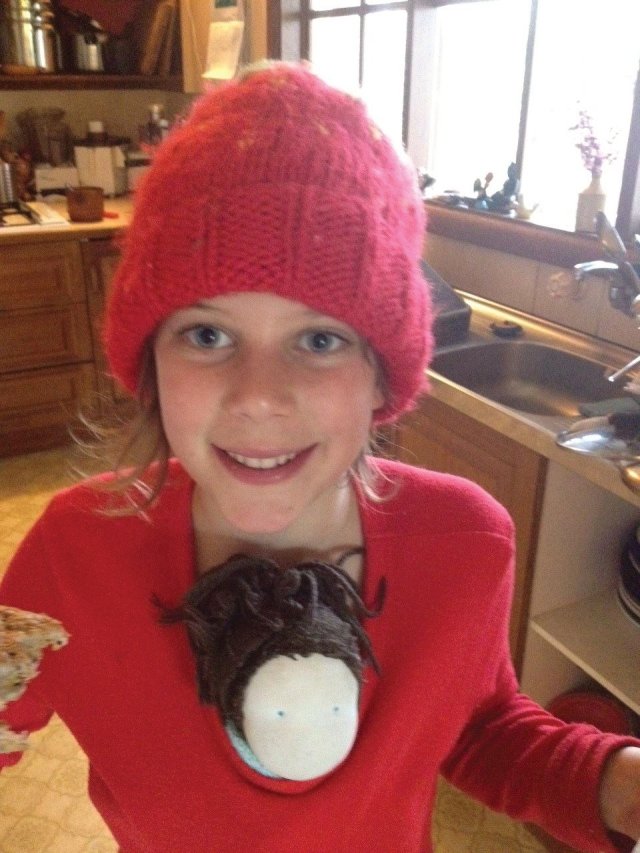 0

/